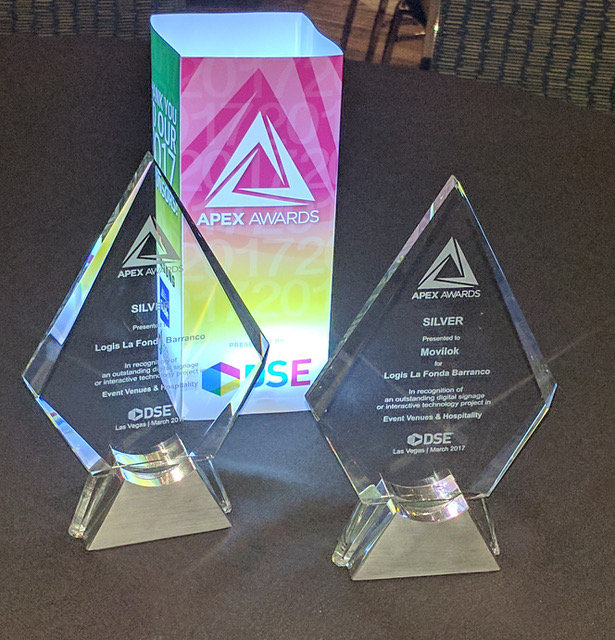 The installation of Showcases at the hotel obtained the Silver Prize in the Event Venues & Hospitality category.
Movilok was awarded with the Silver Prize at  DSE ApexAwards 2017, held past 29 March at Hotel Renaissance in Las Vegas, for the installation at Hotel Logis La Fonda Barranco, Jerez de la Frontera (Spain).  Digital Signage Expo (DSE) is one of the main global exhibitions focused on digital signage, interactive technologies and digital communications networks. This year, the awards were individually assessed and juried on the basis of originality and innovation by 10 industry experts and journalists. Finalists were divided in nine categories from a field of 138 entrants from 12 countries.
Movilok obtained its Silver Prize, behind Dimensional Innovations, awarded with the Gold for its project "The Vikings Voyage" at US Bank Stadium in the "EventVenues & Hospitality" category. Luis del Ser, co-founder of Movilok commented that "this prize fills us with joy and reinforces us to keep on working and improving our platform, has obtained an international dimension".
Movilok took part in this 13th edition of the DSE Apex Awards 2017 presenting the installation of Showcases at Hotel Logis La Fonda Barranco, first hotel certified in Spain for the hearing impaired. It is a picturesque hotel, in what it used to be an ancient house of merchants in the town center of Jerez and only one step away of all the touristic attractions in the city. In this context, the Awards jury took into account the application of Movilok Showcases as a response to the challenge of improving communications by means of digital signage, providing clients with valuable touristic information, in their own language and in an interactive way, as described in this video.