Five Easy Steps
Five Easy Steps to Have an Interactive Showcase
---
1 Select the showcase that best fits my needs
Test our products and choose between different models of showcase. We have several templates that cover a wide range of commercial and informational needs. Contact us for rates or if you have other specific needs at: showcases@movilok.com or info@movilok.com. The product description contains graphical and technical information (information model corresponding to each template and customization options). You can customize connection box position, background images, colors, etc.

2 Subscription to service
The subscription involves a prior registration process. Once activation of the communication service is received, you can access your "Showcase" in the menu "My showcases".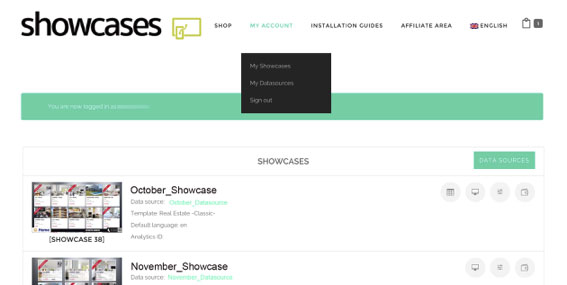 3 Load information
Before setting the "Showcase", you must have a "source of information" that provides content to it. There are two types of data sources: Public existing source file, with the structure and format defined in the product specifications and media files, referenced in the file. Google Sheet type created with an account of Google Drive. For this you must have a Google mail account and follow the steps below.
Access the DATA SOURCES window. You will see the list of existing data sources. For each of them there are the options: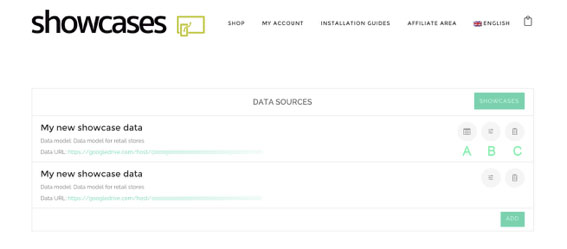 A- Access to data (for Google Sheet type); B- Setting the data source; C-Deleting the data source
To create new data sources press "ADD" and, the screen for configuration data source (name and description) is displayed. If there is an existing data source, you should tick "Advanced", enter the URL of the public file and press CREATE button.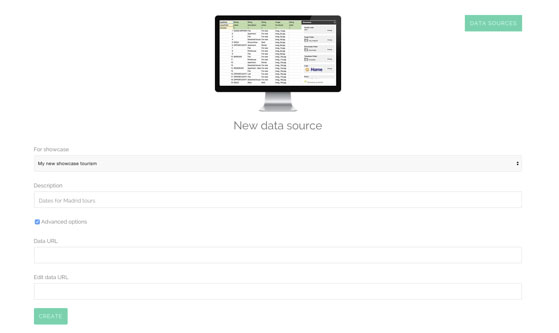 If you want to create a font based on Google Sheet, press CREATE GOOGLE SHEET and follow the steps that your browser indicates. Finally you will access the template document with sample data. This is a very simple automated process. This file will be accessible from the DATA SOURCES window and from your personal Google Drive account.
Next you must install the "complement" in the GOOGLE SHEET. This allows content generation and publication in real time. Go to menu "Add-ons" and install the "Movilok Showcases" add-on.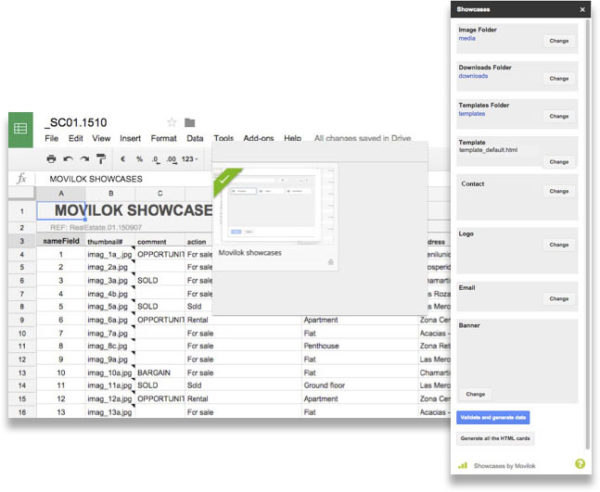 Once incorporated the data and media files, you can "Generate HTML documents" to provide downloadable files for each product. Finally press "Validate and generate data".
4 Showcases customization
You can access to your "Showcase" from "My Account/My Showcases" menu.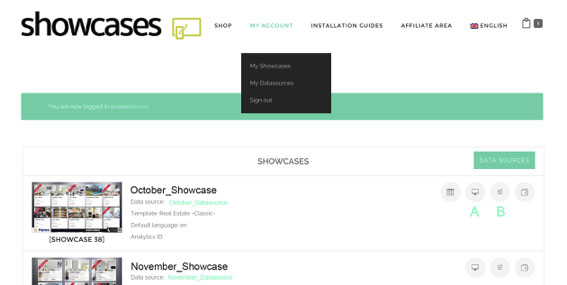 A.- PREVIEW WITH SAMPLE DATA. Open a new browser window where the appearance of the window with sample data is displayed.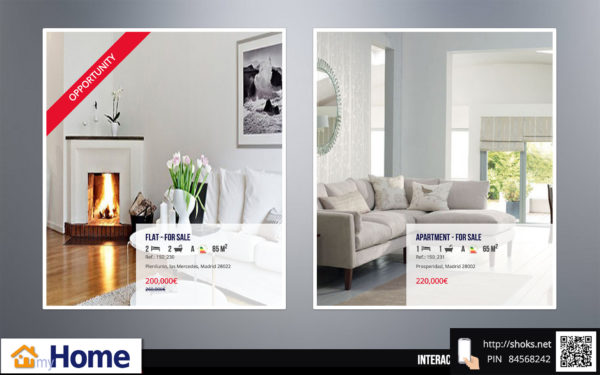 B.- CONFIGURATION OPTIONS:
SHOWCASE SETTINGS tab (to configure general characteristics and many of the visual characteristics):
Choose between different data sources. If no data source available at the moment, it will present a default data source, which will later be substituted by your own data source. You can define multiple data sources to select what you want for each case.
Select from different templates included in the product.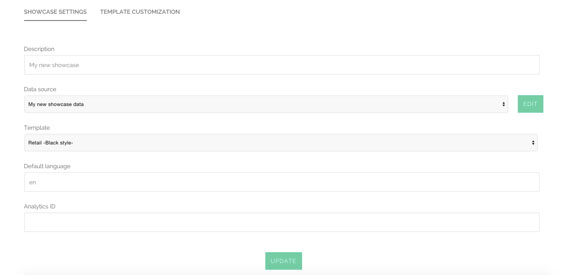 TEMPLATE CUSTOMIZATION tab. You can select features such as:
Background colors and images
Text color
Connection box position
Number of columns, etc.
Click "Update" to set the selected values. If you want to return to the default values ​​press the "SET DEFAULT VALUES" button. After setting the SHOWCASE, go to My Showcases menu to get the preview.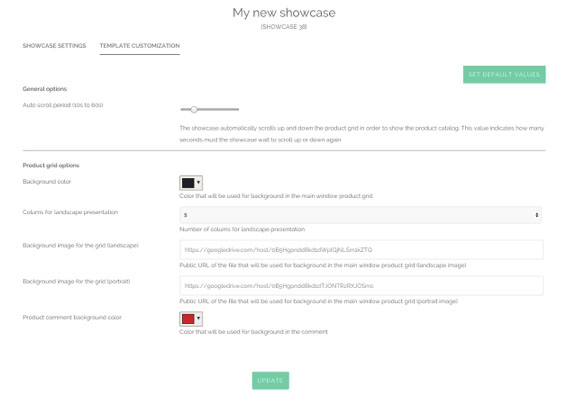 5 Connecting the display to a computer with browser
Connect the computer to the display using an HDMI cable.
Go to "installation guides" and download the corresponding guide to configure the computer for Kiosk mode, so that every time you turn on your display, your "Showcase" will be displayed directly on the screen.